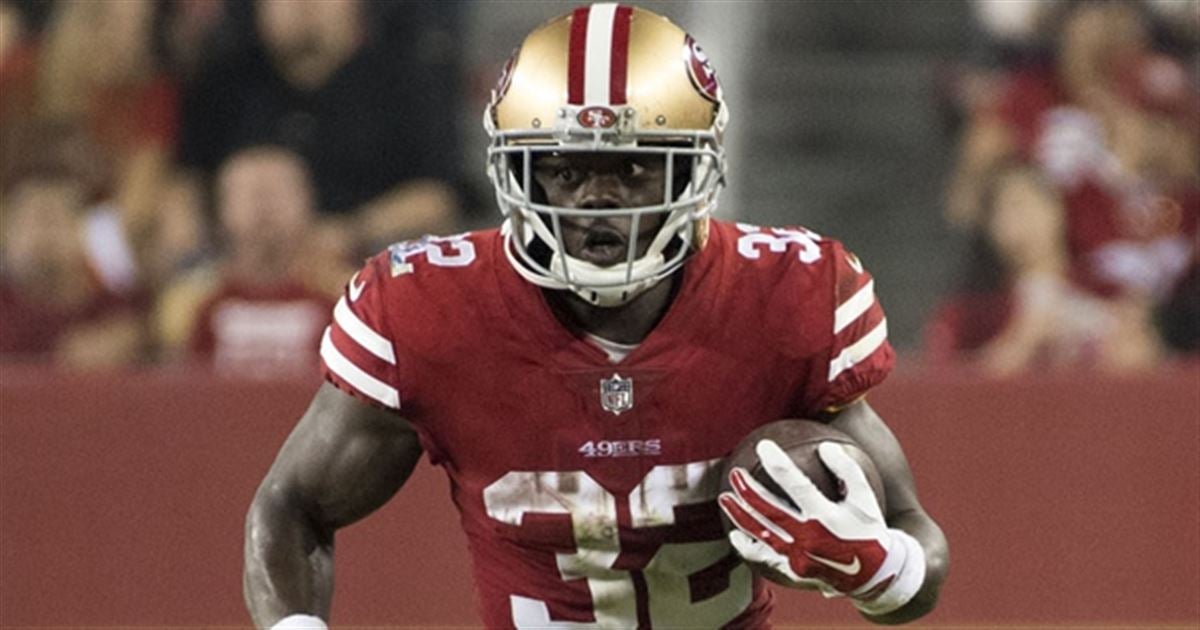 With the start of training camp just days away (July 25), we're taking a look by positionersers at where things currently stand for the San Francisco 49ers and what roster battles can be expected in the weeks ahead. Our next installment comes at the running position, where the top two seems set but past that there could be a spirited battle.
Currently on the 90-man roster: Jerick McKinnon, Matt Breida, Joe Williams, Raheem Mostert, Jeff Wilson, Jeremy McNichols, Kyle Juszczyk (FB), Malcolm Johnson (FB)
53-man roster locks: McKinnon, Breida, Juszczyk
Could be in for a roster spot battle: Mostert, Williams, McNichols, Wilson
Outside shots: Johnson
Outlook: The running back position could bring one of the most intriguing battles of the preseason, as it looks like the number three spot is up for grabs as it was last year. Jerick McKinnon, who signed a four-year, $30 million deal with the 49ers in free agency, has already been declared as the lead back, while Matt Breida is set to once again be the number two back. Behind them, it'll be a competition between Williams, Mostert, McNichols, and Wilson.
Mostert won the job coming out of the preseason last year, due in part to his quality performance on offense as well as special teams. Williams, who was a fourth-round pick of the 49ers in 2017, came to the team thought of by some as a possible successor to the starting running back spot but had some ups and downs during the preseason and spent the regular season on injured reserve, giving him the chance to develop. It's possible he could be facing a now-or-never situation when it comes to making the 49ers roster.
"Joe's come a long way," head coach Kyle Shanahan said in June, per 49ers.com. "I think his body looks a lot better than it did last year. He's put on a lot of muscle mass just how he's worked and taken advantage of the year not playing. I think he has just a different mindset, understands a little bit more of the standard of the NFL and the difference. Sometimes it takes guys time. It's not always malicious and they're not trying, it just takes time to understand it and what you have to do day in and day out. I think Joe has made some huge strides between now and last year and I think that's why he'll have a chance."
McNichols shouldn't be counted out either, considering he was a well-thought of prospect in 2017 who was a fifth-round pick of the Tampa Bay Buccaneers and spent the season developing on the 49ers practice squad. The undrafted rookie Wilson is the dark horse, but he still should be considered a contender given that the number three spot is wide open. At fullback, Juszczyk will remain the starter without any competition.
Early roster prediction: Mostert's a good man to have on the roster given his special teams ability, so right now we'll lean towards him to win a spot again along with McKinnon, Breida and Juszczyk. It's also certainly not out of the question the 49ers could choose to keep a fourth running back if someone proves they need to stay on the roster. From there it'll be interesting to see who winds up on the practice squad. But as was the case last preseason, the battle for the number three spot could go down to the wire.